"Thoughtful design"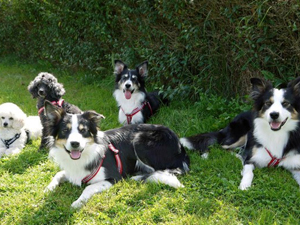 Hey Carina!
I think the Metizo Harness is the best harness I have ever tried!
Many dogs I meet are very stressed by collars and leashes. So just changing to a harness usually makes many dogs calm down. This way, you can get in touch with the dog and really start the training. It is impossible to train with a stressed dog. I especially like Metizo for the well-thought-out design with buckles in several places, the buttoning on the side, and the soft padded straps.
The fact that there are 2 places to attach the leash is also a great benefit. Personally, I mostly use the back attachment because I walk with 3 dogs walking in front of me. It is also excellent when cycling or skiing.
Agneta Damberg Dog Instructor, Problem Dog Consultant and Dog Psychologist, Ängdalens Dog Courses. Ängdalens Hundkurser.